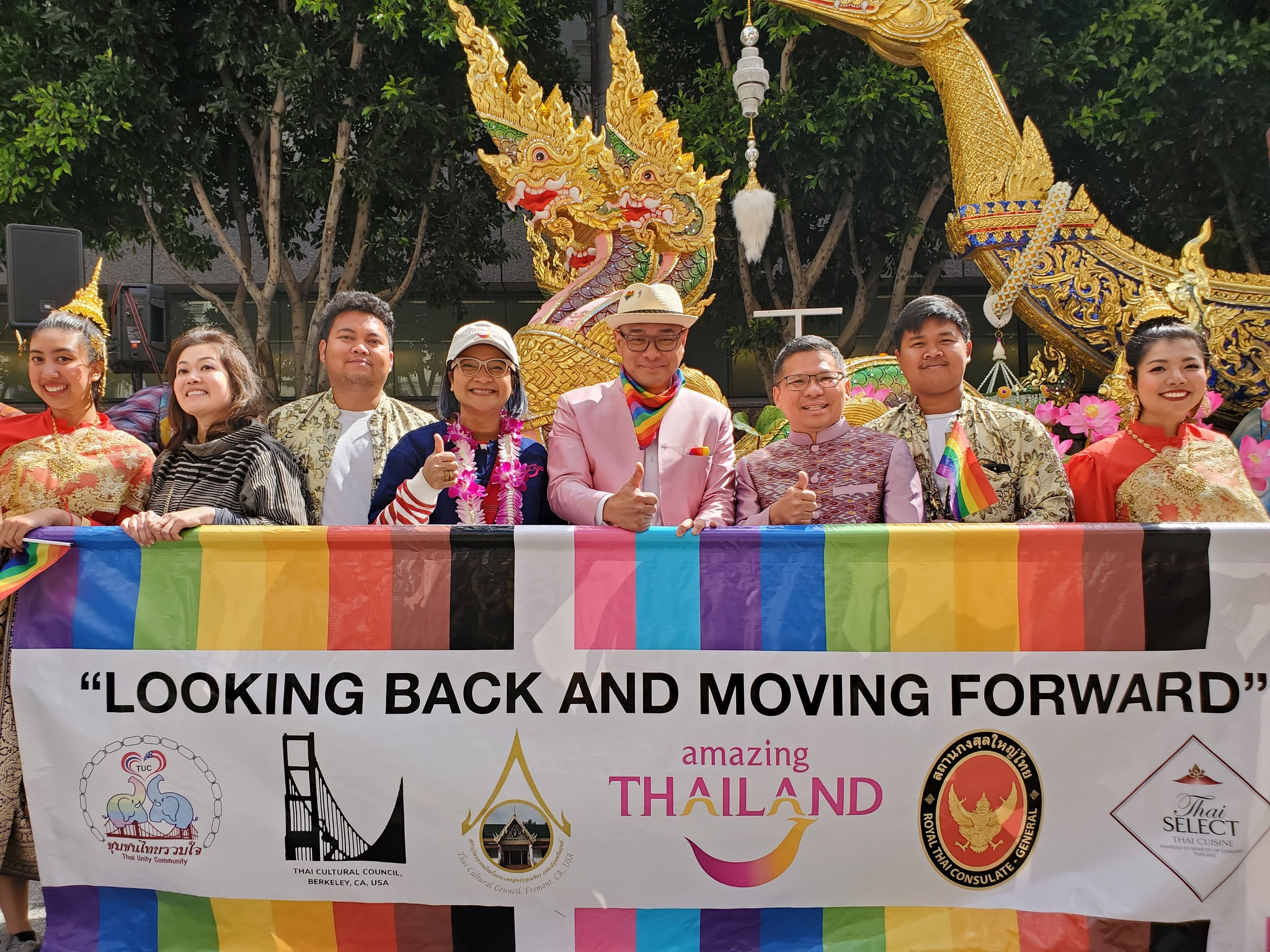 On 25 June 2023, Tor Saralamba, Thai Consul-General in Los Angeles, together with Team Thailand Offices in Los Angeles co-supported Farmhouse Kitchen and Thai community in San Francisco and Bay Area and participated at the San Francisco Pride 2023 parade.
Consul-General Tor Saralamba, together with Niwat Hansaward, Director of Thai Trade Office, and Siriwan Seeharach, Director of Tourism Authority of Thailand in Los Angeles, joining Farmhouse Kitchen Thai Cuisine, Thai Cultural Council in Fremont, Thai Cultural Council in Berkeley, and Thai Unity Community, and Thais in San Francisco and Bay Area participated in San Francisco Pride Parade 2023 in order to celebrate gender equality and diversity and show support to the LGBTQ+ community. In this occasion, Farmhouse Kitchen and supporting parties creatively arranged a replica of Royal Barge Suphannahong to show Thailand's unique identity under the theme "The Chao Phraya of Love" and joined hands in the parade to demonstrate arts and culture from four regions of Thailand to spectators.
"The Chao Phraya of Love" parade representing Thailand was the involved parties' endeavor to show the value of Thai society and culture that respects and embraces LGBTQ+ community and those with gender diversity. Meanwhile, it also highlighted the unity of Thai community in San Francisco and Bay Area. The parade was cheerfully greeted by local and international spectators along the sideway and was live broadcasted on ABC 7 to more than 30 million viewers globally, as well as was reported by news agencies, press, and social media around the world. This year, the event organizing committee also awarded Thailand's parade the "Absolutely Fabulous Musical Contingent" prize to recognize the creativity and efforts of the team.