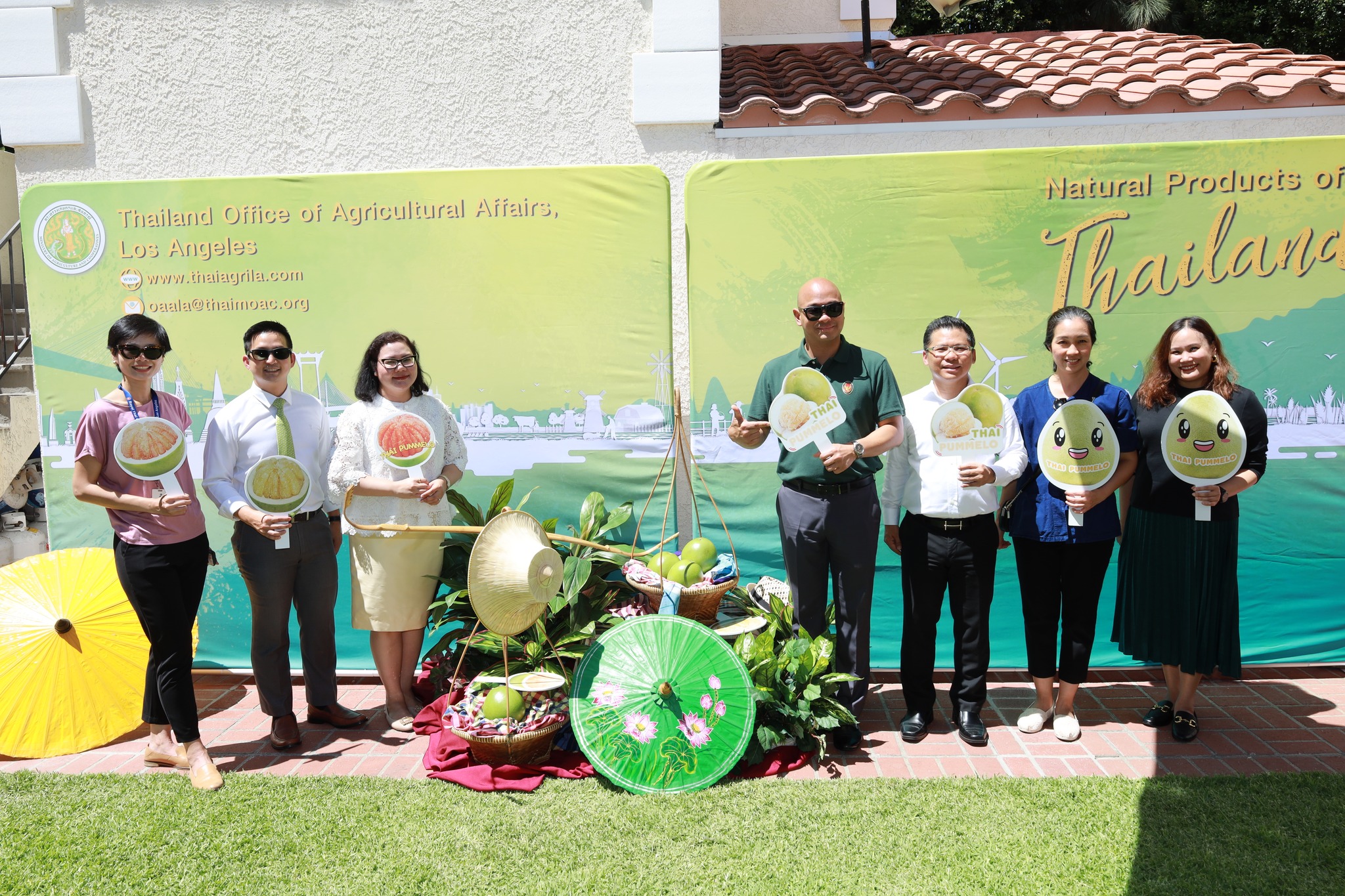 On 20 July 2023, Consul-General Tor Saralamba, together with Praiya Savetjinda, Agricultural Consul, Niwat Harnsaward, Director of Thai Trade Center Los Angeles, and Marisa Wongseree, Deputy Director of Tourism Authority of Thailand Los Angeles joined the event "Afternoon Tea with Thai Pummelos" to celebrate the first badge of fresh Thai pummelos imported from Thailand to the U.S., as well as to commemorate 190 years of relationship between Thailand and the U.S. at the residence of Thai Consul-General.
Consul-General Tor congratulated the first importation of fresh Thai pummelos to American market, a promising market with continuous growth in consumption of tropical fresh fruits. Pummelo is the eighth fresh fruit from Thailand that passed the American standard of phytosanitary clearance and was granted an access to the U.S. market after mango, mangosteen, rambutan, longan, lychee, pineapple, and dragon fruit. Agricultural Consul Praiya also highlighted that the first badge of Thai pummelos reflected an achievement of the 15-year endeavor between Thai and American sides in working closely together to create mutual understanding and confidence to ensure that the imported Thai pummelos are safe to American consumers, as well as bring no harm to the U.S. agricultural production.
The event was organized with an aim to promote Thai pummelos in the U.S. market targeting on importers of Asian groceries, Thai restaurants, and media. The guests got an opportunity to learn more about five varieties of fresh Thai pummelos including Tubtim Siam, Thongdee, Khao Nampueang, Khao Yai, and Khao Tangwa, as well as how to peel them and how to cook "Pummelo salad". In this occasion, Director of Thai Trade Office also rewarded two lucky winners with $100 gift card of Otus Thai Kitchen & Coffee and Love2Eat which are famous "Thai SELECT" certified restaurants in Los Angeles.