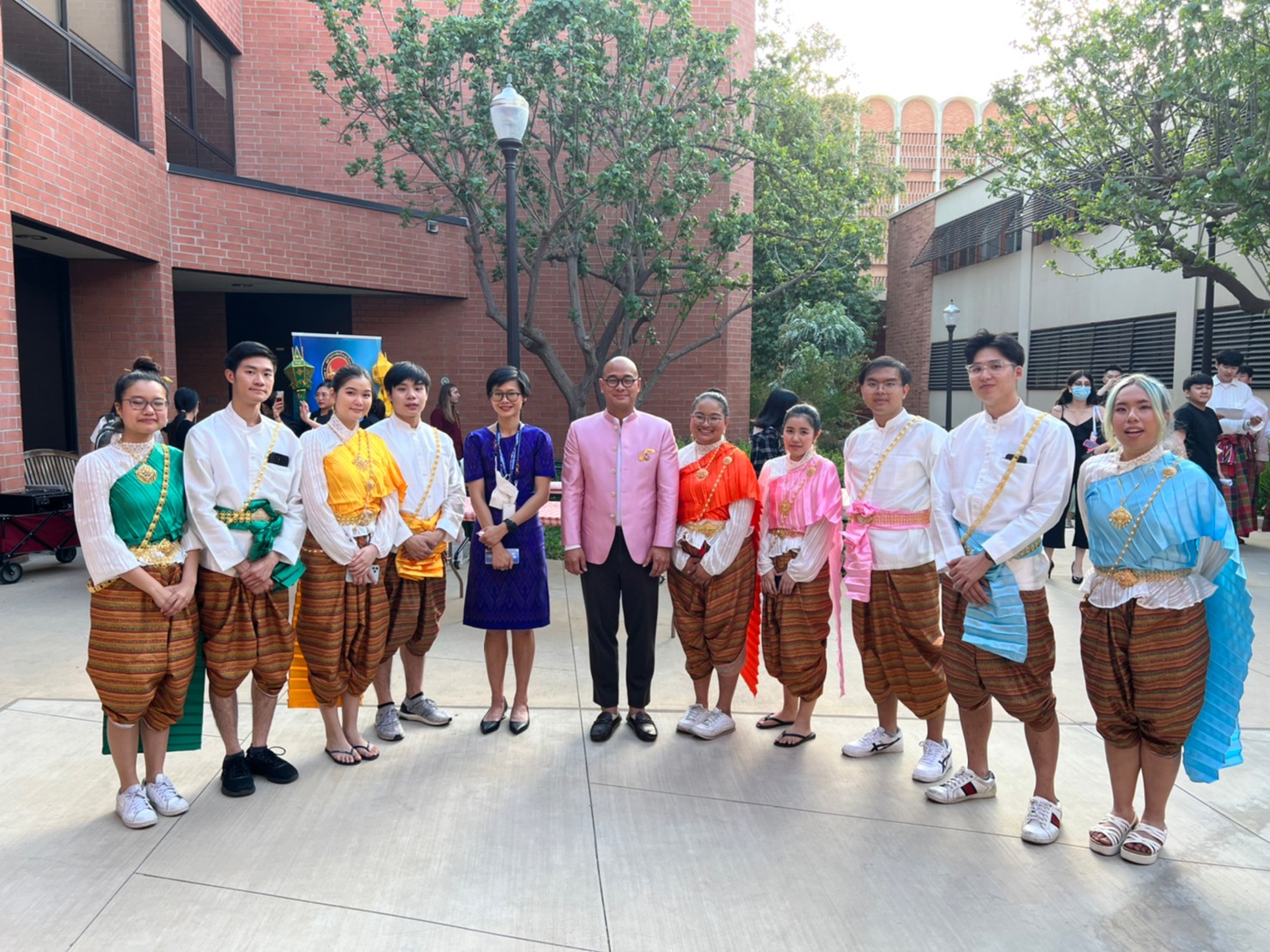 On 14 May 2022, Mr. Tor Saralamba, Consul-General, attended the Thai Cultural Show event organized by the Department of Ethnomusicology, the UCLA Herb Alpert School of Music, at Schoenberg Hall, University of California, Los Angeles (UCLA). The event was a part of UCLA's Spring Festival of World Music 2022 which includes performing arts from several Asian countries.
Consul-General Tor congratulated Ass. Prof. Supeena Insee Adler, PhD., World Music Instrument Curator and Director of Music of Thailand Ensemble, Department of Ethnomusicology, UCLA, for the successful Thai cultural performance, as well as praised the Thai and foreign UCLA students, Thai musicians and performers, more than 40 people in total, for their devotion and hard-work in practicing and performing together. The audience enjoyed the joyful tune and colorful Thai cultural performance including Chicken Dance, Bai Sri Su Kwan Dance, Mahori Isan Dance, Phu Thai Dance and Medley Pong Lang Dance.
In this occasion, the Thai Consulate-General also supported the event by arranging a reception with Thai food providing opportunity for more than 150 guests to try the taste of Thailand including rice with fried chicken and green curry sauce, steamed rice dumplings, chicken satay, and crispy golden cup.
The Department of Ethnomusicology, the UCLA Herb Alpert School of Music started the Music of Thailand Ensemble class as an elective course for their students since 1972. Ever since, the Department has carried out academic studies and researches on Thai classical music, restoration project for Thai musical instruments, as well as technical cooperation with several foundations and academic institutes in Thailand. The said endeavors have strongly supported the conservation and promotion of learning on Thai classical music and Thai culture among Thai and foreign people in the United States.