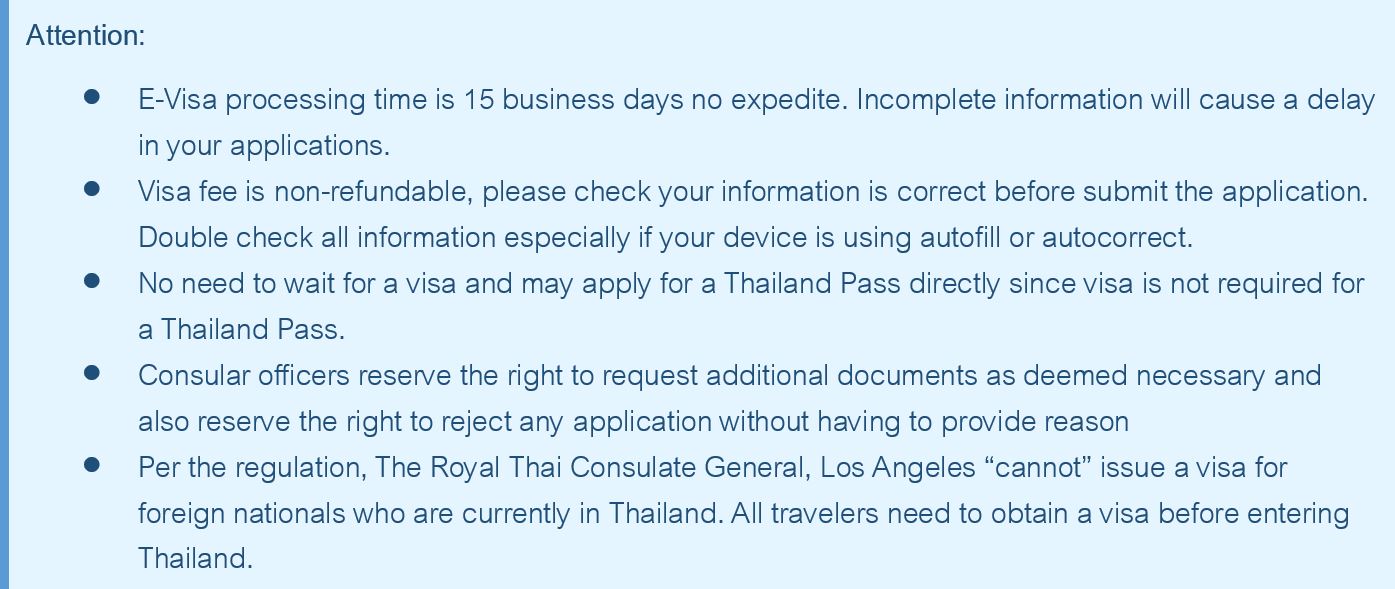 To ensure sufficient time for the registration and approval process in the Thailand Pass system and eliminate the need for travelers to adjust their travel itinerary, from 10 February 2022 onwards, Thailand Pass system will not permit registration less than 2 day before departure date. (to ensure smooth journey it is highly recommended that you plan your travel at least 7 days in advance).
In case of emergency travel, please send your request / supporting documents to [email protected]
* The processing time for Thailand Pass is 3 – 7 days. Applicants are strongly advised to plan ahead and submit the registration for Thailand Pass at least 7 days prior to departure *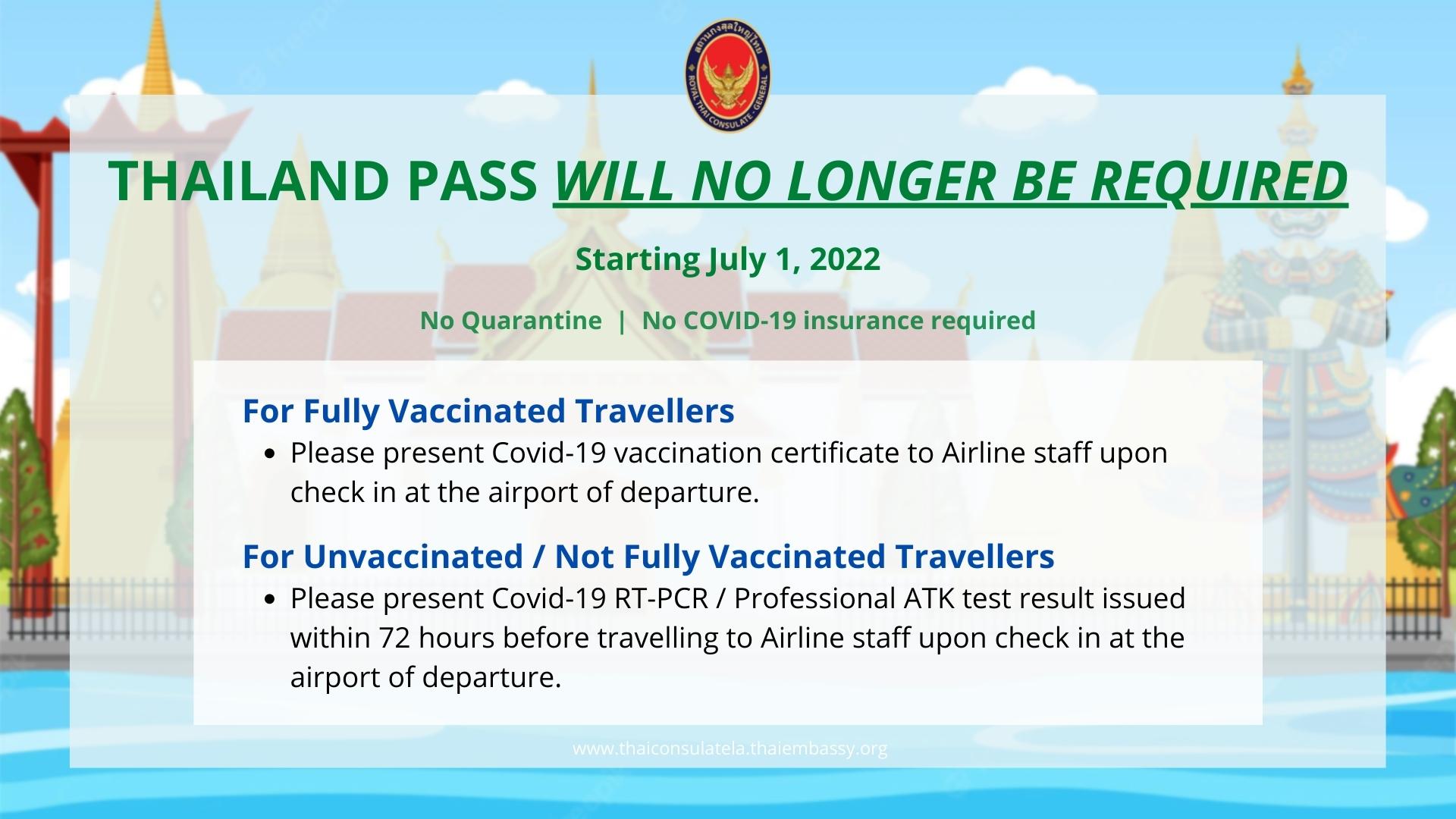 Please read the following regulations applied during COVID-19 situation until further notice.
Since September 2021, The Royal Thai Consulate General, Los Angeles has been implementing Stickerless e-visa service. No longer required to submit passport and original document via mail to The Royal Thai Consulate. After the E-visa application has been approved, a confirmation email will be sent to applicants. It is kindly requested to print a copy of the confirmation email to present to airline and the Thai Immigration Officials to carry out checks when traveling to Thailand.
By virtue of Section 9 of the Emergency Decree on Public Administration in Emergency Situations B.E. 2548 (2005) and Section 11 of the State Administration Act B.E. 2534 (1991), the entry to Thailand is permitted for particular persons in the exempted list. The list for non-Thai nationals includes the following:
Diplomats and International Organizations Officers
Persons on diplomatic or consular missions or under International organizations, or representatives of
foreign governments or agencies performing their duties in Thailand, or any other persons in
international agencies, that the Ministry of Foreign Affairs gives permission pertaining to necessity,
including their spouse, parents, or children.
(3) Diplomats and Officials (D / F / NON F) (click here)
—————————————————————————————————————————
Family of Thai Nationals
Non-Thai nationals who are spouses, parents, or children of Thai nationals.
(6) Family of Thai Nationals (NON – O) (click here)
—————————————————————————————————————————
Certificate of Residence Holders
Non-Thai nationals who have a certificate of residence, or have been permitted to take up residency
in the Kingdom;
(7) Certificate of Residence Holders (NON – O) (click here)
—————————————————————————————————————————
Business Work Permit & Family
Non-Thai nationals who have a work permit or have been granted permission to work in the Kingdom
in accordance with Thai laws, including their spouses or children;
(8) Work permit holders or granted permission to work in Thailand (NON-B / IB / SMART Visa) (click here)
(8) Spouses or Children or Work Permit Holders (NON-O) (click here)
(8) Work permit holders – Religious / Missionary works (NON-R) (click here)
(8) Work permit holders – Volunteers or NGOs (click here)
(11) Elite – Thailand Elite Card Member (Elite) (click here)
(11) APEC – APEC Card Holder (APEC) (click here)
—————————————————————————————————————————
Study
Non-Thai nationals who are students of educational establishments in Thailand approved by Thai authorities,
including their parents or guardians, except for students of non-formal schools in accordance with laws
on private schools or of any other similar private educational establishments;
(9) Students (NON-ED) (click here)
(9) Students (Parents / Guardians) (NON-O)
(11) Studying, training, or do internship or attending religious activities in Thailand (NON-ED)
—————————————————————————————————————————
Medical Appointment – Suspended –
Non-Thai nationals who need to receive medical treatment in Thailand, including their accompanying persons,
except for treatment for COVID-19;
(10) Foreigner with Medical Appointment (TR-MT) (click here)
(10) Accompany person of foreigners with Medical Appointment (NON-O)
—————————————————————————————————————————
Long Stay
(11) Long Stay visitor (NON-O) (click here)
(11) Long Stay retirement (up to 1 year) (NON-OA) (click here)
(11) Long Stay retirement (up to 5 years) (NON-OX) (click here)
—————————————————————————————————————————
Medium Term
(11) Visa exemption scheme (Exempt) (click here)
(11) Medium Term Visitor – Tourist visa (TR – single entry only) (click here)
(11) Medium Term Visitor – Businessman and Investor (NON-B) (click here)
—————————————————————————————————————————
Tourist / Sport / Film
(9) Transit/Transfer Passengers at Suvarnabhumi International Airport (click here)
(11) Special Tourist visa (STV) (click here)
(11) Approved Film Crew Member (NON-M) (click here)
—————————————————————————————————————————-